UPDATE: NISSAN MICRA CUP GRAND PRIX DE TROIS-RIVIERES RACE II RESULTS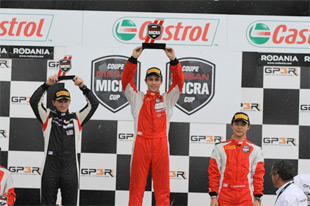 August 5, 2015 - During post-race video analysis of the second Nissan Micra Cup race of the Grand Prix de Trois-Rivières by series officials, a penalty of five positions was given to two drivers. Stefan Rzadzinski, who originally placed first, received a penalty for a jump start and Abhinay Bikkani, who was in seventh, received a penalty for avoidable contact. Following the penalties Rzadzinski was reclassified sixth, with Bikkani reclassified in twelfth.
The new podium for the second race of the weekend and eighth race of the inaugural Nissan Micra Cup season, has Olivier Bédard in first, giving him a sweep for the weekend after winning Saturday's race, followed by Thanaroj Thanasitnitikate in second and Antoine Bessette in third.
Overall standings for the series has Bédard and Thanasitnitikate tied for first place with 284 points, followed by Rzadzinski with 238 points and Bikkani with 182 points. Rounding out the top five is Valérie Chiasson with 159 points.
Original Release: Olivier Bédard and Stefan Rzadzinski share victories in Trois-Rivières
UPDATE: NISSAN MICRA CUP GRAND PRIX DE TROIS-RIVIERES RACE II RESULTS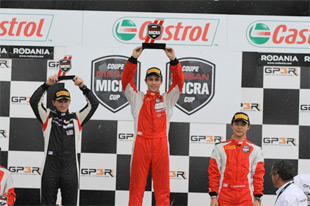 August 5, 2015 - During post-race video analysis of the second Nissan Micra Cup race of the Grand Prix de Trois-Rivières by series officials, a penalty of five positions was given to two drivers. Stefan Rzadzinski, who originally placed first, received a penalty for a jump start and Abhinay Bikkani, who was in seventh, received a penalty for avoidable contact. Following the penalties Rzadzinski was reclassified sixth, with Bikkani reclassified in twelfth.

The new podium for the second race of the weekend and eighth race of the inaugural Nissan Micra Cup season, has Olivier Bédard in first, giving him a sweep for the weekend after winning Saturday's race, followed by Thanaroj Thanasitnitikate in second and Antoine Bessette in third.

Overall standings for the series has Bédard and Thanasitnitikate tied for first place with 284 points, followed by Rzadzinski with 238 points and Bikkani with 182 points. Rounding out the top five is Valérie Chiasson with 159 points.

Original Release: Olivier Bédard and Stefan Rzadzinski share victories in Trois-Rivières