Micra Cup Magazine – Grand Prix du Canada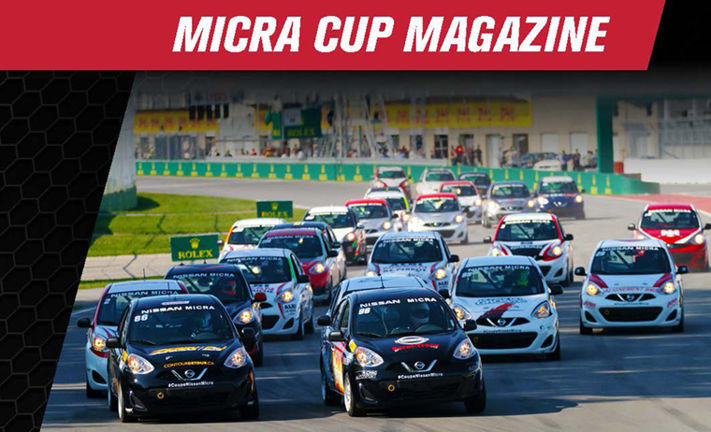 After Friday's erratic weather with the practice session on a dry track and the qualification session on a very wet track, the first race took place in full sun on Saturday afternoon, only two hours after the F1's qualification session. Qualified in pole position, Quebec's Olivier Bédard led the whole race, creating a gap of almost five seconds on the duo composed by Nissan GT Academy driver Thanaroj Tanasitnitikate and the hockey player Marc André Bergeron, who fought a fierce battle with both drivers crossing the finish line separated by only tenths of seconds.
Back in competition after sixteen years of absence, veteran and driving instructor Richard Spénard ranked himself fourth, after a very nice ascent. Following the lead of the best drivers in practice session, where he climbed to second position, he showed that he did not lose his immense talent. Spénard ranked ahead of Pierre Clavet, Valérie Chiasson, Indian Abhinay Bikkani, second driver of the GT Academy, Paul Dargis, Benoît Gagnon and best rookie, Olivier Pelletier.
Sunday morning, it's in front of a massive crowd that the Nissan Micra Cup presented an exceptionally intense second race. In the track sections that are equally as mythical as the famous Senna, East hairpin or the breaking zone at the "Wall of Champions" turns, there was numerous overtaking. Leading the race, Olivier Bédard and Stefan Rzadzinski traded the first position multiple times. At the end, Rzadzinski had the best of Bédard, winning the race by a nose.
In terms of a perfectly executed race, Valérie Chiasson ends in third position. Thus, she writes Canadian motorsport modern history, as she is the first female driver to clinch an overall podium spot on the circuit Gilles-Villeneuve.
Behind the wheel of these almost stock Nissan Micra, Richard Spénard, drivers from the GT Academy, Tanasitnitikate and Bikkani, Jacques Bélanger and Marc-André Bergeron brought the crowd on its feet in their battle for the fourth spot. Abhinay Bikkani and Thanaroj Tanasitnitikate managed to take this highly coveted position from Richard Spénard. Bélanger, Bergeron, Kevin King and rookie Metod Topolnik complete the "Top 10".
In the driver's championship, Bédard leads with 148 points, in front of Tanasitnitikate (142), Rzadzinski (114), Valérie Chiasson (98), Bikkani (71) and Bergeron (70). Metod Topolnik still leads the rookie championship.
For more information on the Nissan Micra Cup and its driver, please visit www.nissan.ca/micracup. Don't miss the series news on the Facebook page Coupe Nissan Micra Cup and the posts/live results during practice and qualifying sessions, and races on Twitter: @micracup
Micra Cup Magazine – Grand Prix du Canada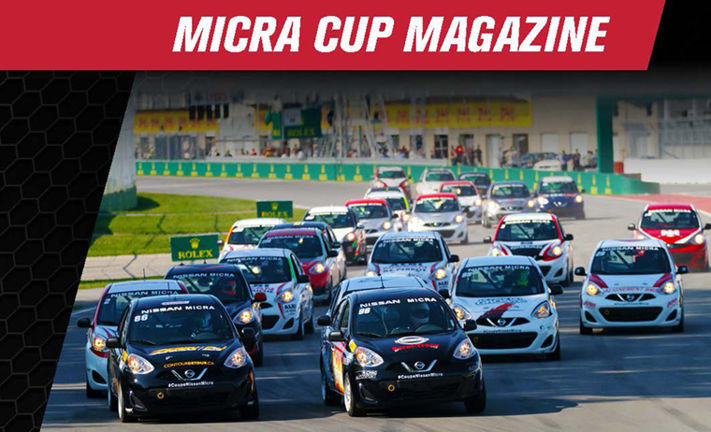 After Friday's erratic weather with the practice session on a dry track and the qualification session on a very wet track, the first race took place in full sun on Saturday afternoon, only two hours after the F1's qualification session. Qualified in pole position, Quebec's Olivier Bédard led the whole race, creating a gap of almost five seconds on the duo composed by Nissan GT Academy driver Thanaroj Tanasitnitikate and the hockey player Marc André Bergeron, who fought a fierce battle with both drivers crossing the finish line separated by only tenths of seconds.

Back in competition after sixteen years of absence, veteran and driving instructor Richard Spénard ranked himself fourth, after a very nice ascent. Following the lead of the best drivers in practice session, where he climbed to second position, he showed that he did not lose his immense talent. Spénard ranked ahead of Pierre Clavet, Valérie Chiasson, Indian Abhinay Bikkani, second driver of the GT Academy, Paul Dargis, Benoît Gagnon and best rookie, Olivier Pelletier.

Sunday morning, it's in front of a massive crowd that the Nissan Micra Cup presented an exceptionally intense second race. In the track sections that are equally as mythical as the famous Senna, East hairpin or the breaking zone at the "Wall of Champions" turns, there was numerous overtaking. Leading the race, Olivier Bédard and Stefan Rzadzinski traded the first position multiple times. At the end, Rzadzinski had the best of Bédard, winning the race by a nose.

In terms of a perfectly executed race, Valérie Chiasson ends in third position. Thus, she writes Canadian motorsport modern history, as she is the first female driver to clinch an overall podium spot on the circuit Gilles-Villeneuve.

Behind the wheel of these almost stock Nissan Micra, Richard Spénard, drivers from the GT Academy, Tanasitnitikate and Bikkani, Jacques Bélanger and Marc-André Bergeron brought the crowd on its feet in their battle for the fourth spot. Abhinay Bikkani and Thanaroj Tanasitnitikate managed to take this highly coveted position from Richard Spénard. Bélanger, Bergeron, Kevin King and rookie Metod Topolnik complete the "Top 10".

In the driver's championship, Bédard leads with 148 points, in front of Tanasitnitikate (142), Rzadzinski (114), Valérie Chiasson (98), Bikkani (71) and Bergeron (70). Metod Topolnik still leads the rookie championship.

For more information on the Nissan Micra Cup and its driver, please visit www.nissan.ca/micracup. Don't miss the series news on the Facebook page Coupe Nissan Micra Cup and the posts/live results during practice and qualifying sessions, and races on Twitter: @micracup